Published on 16/10/17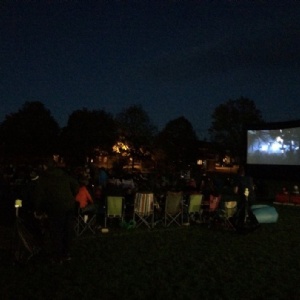 To bring our STEAM Week 'Discover' to a close we hosted an open air cinema viewing on the top field during Friday evening. The film … E.T. of course!
Over 300 parents and children set camp for an evening of entertainment. Mr Wright and his team had the kitchen in overdrive, supplying hot food for all who wanted it.
The company, Moonbeamers, arrived early in the afternoon to erect the monstrous 24ft screen and to set up, as I am sure the neighbours will agree, the impressive sound system.
As the sun set and the sky was lit with stars, families settled to their tents, sleeping bags and deck chairs as we all enjoyed a nostalgic viewing of the Spielberg classic. To say it hadn't aged since its debut 35 years ago would be stretching the truth, but judging by the sniffles and the watery eyes, I think it still pulled on the heartstrings.
We were thrilled by the parental uptake. There was a great atmosphere during the evening and it was super opportunity to get together as a school community and enjoy an event of this nature.
By Mr Hewlett