Published on 17/10/17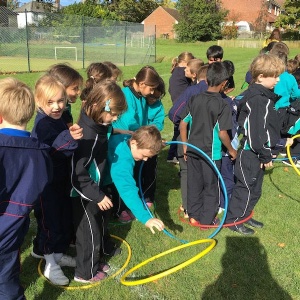 Our approach to education places an emphasis on learning to collaborate with others. Our regular Collaboration Days bring pupils from Dame B's and the Stephen Perse Junior School together for new and engaging experiences.
Our recent Island Adventure was a busy day for Year 3 when 64 shipwrecked pirates washed up on shore at Dame B's for a thrilling day of island adventures!
Working in groups, the children named their islands and completed their maps, cracking codes to find where the treasure was hidden. They also had to decide collectively what was needed for their survival and prioritise nine items in order of what they thought was most important.
Fabulous teamwork was demonstrated with groups manoeuvring themselves on rafts across a stormy ocean!
The final task was to design, build and test a boat, working with limited materials and against the clock. Many boats floated and allowed the survivors to escape; the biggest exodus being when the coach arrived to return our visitors to the Junior School in Cambridge.
A fun and inspirational day of collaboration was had by all.